Kessler Perlmutter Lewis trio
Research Lab
Funding Dystonia Discoveries
DYT1 dystonia, also known as early-onset torsion dystonia, is a severe form of hereditary, generalized dystonia.
Read More »
Tips for Managing Holiday Stress Living with dystonia is challenging year-round, but the holiday season can pile on additional stress that can affect your health and dampen the spirit of
Read More »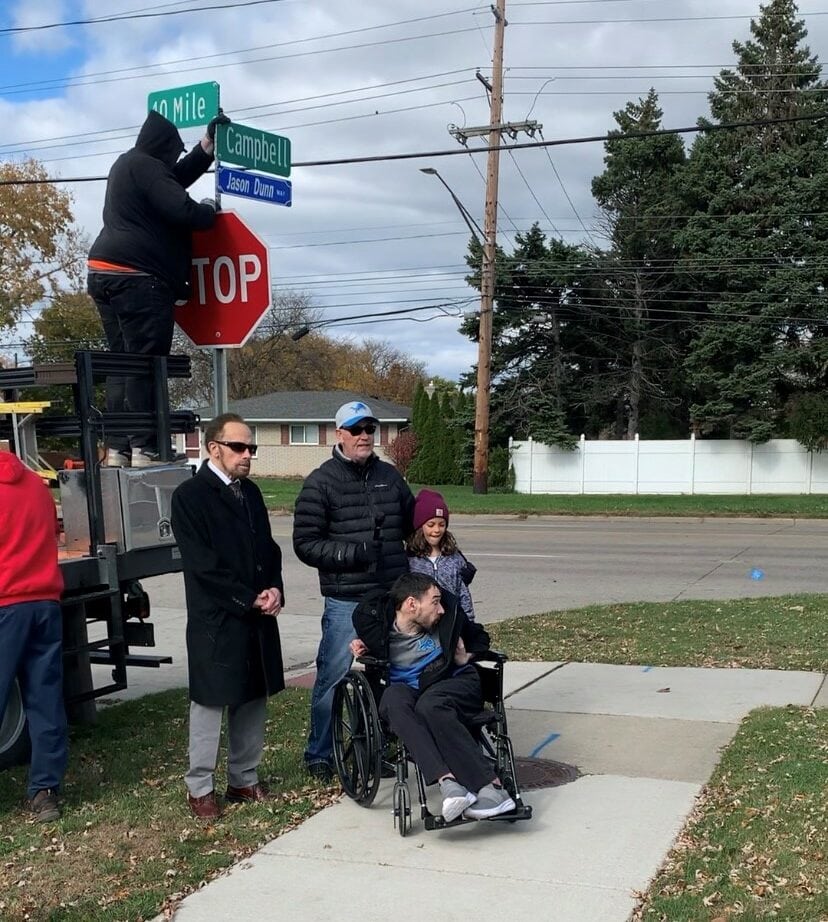 The city of Warren, Mich., has dedicated a street in honor of Jason Dunn who has been a tireless advocate for dystonia. He and his friend, Mike Delise, have raised
Read More »
Current Dystonia Research Investigations
The Dystonia Medical Research Foundation (DMRF) prides itself on a long history of supporting and stimulating dystonia research
Neuroanatomical Isolation of Networks in Dystonia through Analysis of Causal Brain Lesiona The goal of this study is to reveal the anatomy of dystonia by analyzing causal links between symptoms and brain structures affected by lesions. This will ultimately identify targets for new brain stimulation methods.
Daniel Corp, PhD
Deakin University (Australia)
Developing High-Throughput Assays to Enable Drug Development for DYT1 Dystonia This project will use advanced molecular methods to develop new pharmacological approaches that disrupt the cellular cascade leading to neuronal dysfunction with the aim to select specific compounds with drug-like properties that may potentially be developed into dystonia drugs.
Christian Schlieker, PhD
Yale University (USA)
Theta Burst Transcranial Focused Ultrasound as a Novel Treatment for Cervical Dystonia This project aims to explore the effects of a novel non-invasive brain stimulation technique that has the potential to be a safer, less costly, and more accessible alternative to deep brain stimulation.
Jean-Francois Nankoo, PhD
University Health Network (Canada)
The Role of Basal Ganglia Pathways Engaged in Skilled Forelimb Movement in a Mouse Model of DYT1 Dystonia The aim of the project is to quantify and manipulate the brain activity underlying a dystonic forelimb movement in mice. The results should facilitate targeting specific neuronal populations of the direct basal ganglia to produce more efficient therapies.
Filipa França de Barros, PhD
Champalimaud Foundation (Portugal)
Spike-Triggered Adaptive Closed-Loop Cerebellar Deep Brain Stimulation for Dystonia Mahlon DeLong Young Investigator Award Dr. Kim will test the hypothesis that the unique pathophysiological cerebellar neural signals in dystonia can serve as robust biomarkers for triggering an adaptable closed-loop deep brain stimulation response to restore movement with high precision.
Linda Kim, PhD
Baylor University School of Medicine (USA)
Join us, and be a part of the global effort to find a cure for dystonia